Short informational postings by Dr Art Villarreal MD.
2 Jun 21
https://pubmed.ncbi.nlm.nih.gov/33861671/
This study titled "Biceps Femoris Compensates for Semitendinosus After Anterior Cruciate Ligament Reconstruction With a Hamstring Autograft: A Muscle Functional Magnetic Resonance Imaging Study in Male Soccer Players" is from researchers at Ghent University in Belgium.
This study adds to the ever-growing body of literature regarding ACL reconstruction. A continued area of focus with the ACL is graft selection. Common autograft types include hamstring, bone-patella tendon-bone, and quadriceps. This study looked specifically at soccer players after a hamstring autograft ACL reconstruction.
Hamstring and ACL injuries are relatively common injuries in soccer players. The authors had MRI scan performed on the players before and after the players performed prone leg curls. This showed that players after having an ACL reconstruction with a semitendinosus autograft had higher exercise related activity in the long head of the biceps femoris.
One of the important points from this study the authors mention is improved understanding of the loss of the dynamic role of the semi-t and increased agonist function and improving rehab from this.
Relevance in the news:
https://www.espn.com/soccer/atlanta-united-fc/story/4376974/martinezs-long-road-back-to-atlanta-after-acl-tear-how-the-2018-mls-mvp-got-fit-and-got-back-onto-the-field
This article details a familiar story for both high level and recreational soccer players. Although, this article does not mention specifically what graft type Martinez had, it is safe to say that continued studies such as the one above will serve to improve outcomes.
If you have had an ACL tear and want to know more about anterior cruciate ligament reconstruction, call my office at 512-244-4272 or schedule an appointment online now.
3 Jun 21
https://pubmed.ncbi.nlm.nih.gov/33797979/
Today's article is "Clinical Outcome of a Modified Coracoid Tunnel-Free Coracoclavicular Sling Technique With Remnant Preservation for the Treatment of High-Grade Acromioclavicular Joint Separation: A Report of 48 Cases With 2 to 5 Years of Follow-up". This study from Li et al. was performed at Beijing Jishuitan Hospital, Beijing, China.
I like this study as I think the topic is interesting. Shoulder separations are frequently in the news with football players. In my practice most of these injuries are from football or falls from a bicycle but can also occur during other sporting activities, falls, or car accidents.
The acromioclavicular joint (AC joint) is stabilized by the coracoclavicular and acromioclavicular ligaments. This study focuses on grade 4 and 5 AC joint separations. Briefly, these injuries are graded by degree and direction of displacement of the clavicle in relation to the acromion. A type 4 separation results in a distal clavicle that is displaced posterior in relation to the acromion. A type 5 separation results in a superiorly displaced distal clavicle of greater than 100%.
The authors describe a technique that uses two drill holes in the clavicle with passage of suture under the coracoid and secured with two buttons on the superior surface of the clavicle with an adjustable suture. One of the worries with type of technique is that the suture can act as a saw under the coracoid and result in fractures. The authors did not have this complication during their follow up period. The authors also mention a desire to limit techniques requiring tunnels in the coracoid itself as this can also result in coracoid complications especially in their small statured patient population.
The results from the study are promising with 41 of 48 returning to preinjury level of sporting activity although they do not explicitly state either the level of or type of sport. They showed a loss of reduction rate of 8.3% but this did not require further intervention.
There is no shortage of different techniques to treat this condition. My current technique is a modification of one described by Menge et al. https://www.ncbi.nlm.nih.gov/pmc/articles/PMC5368056/
I have included a very rough illustration of the author's described technique. You can also watch the patient education videos for further info.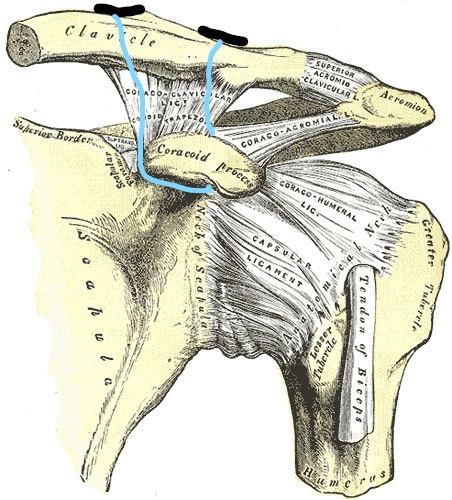 Fig. 1- Two buttons can be seen on the superior surface of the clavicle. The suture connecting the two buttons is adjustable and serves to reduce the injury.
If you are suffering from pain and discomfort following acromioclavicular joint separation and want to discuss more about the treatment options, call my office at 512-244-4272 or schedule an appointment online.
4 Jun 21
https://pubmed.ncbi.nlm.nih.gov/33069902/
Today's article is titled "Return-to-play outcomes in high school baseball players after ulnar collateral ligament injuries: dynamic contributions of flexor digitorum superficialis function." This article from Sakata et al. was performed from Toyota Memorial Hospital, Yokohama Minami Kyosai Hospital, and Yokohama Sports Medical Center.
Briefly, the ulnar collateral ligament (UCL) of the elbow attaches the medial (inside) aspect of the lower humerus to the upper portion of the ulna. Because muscles such as the flexor digitorum superficialis (FDS) also attach to the inner aspect of the elbow they can act as dynamic stabilizers.
More than 400,000 high school athletes play baseball in the U.S. and so the more studies that add to decision making in this population the better. The authors looked at both MRI and US of the elbow in this study. They graded UCL injuries as previously described by Ford et al: I, intact ligament with or without edema; IIA, partial tear classified as a tear with incomplete ligament fiber disruption; IIB, chronic healed injury with ligament thickening indicative of a previous injury but without fiber disruption; and III, complete tear with full ligament disruption. They also looked at US under resting conditions at 30 and 90 degrees of elbow flexion and under valgus conditions with or without FDS contraction.
One takeaway from the results is that they had a high return to the same level of sport, 83.6%, with nonoperative treatment with 8 failures returning to sport at a lower level and only one resulting in surgery. They did show a significant difference between presence of ring down artifact on ultrasound at rest and valgus testing but no difference between joint space in the group that returned to the same level and the group that did not. They showed a 100% return to the same level with grade I UCL injuries, 86.4% with grade IIA, 75% with grade IIB, and 0% with grade III.
Patients should note that rehab may seem like a slow process and some athletes in this cohort did not advance to an interval throwing program until 3 months after initiating the rehab process. However, patients should also be encouraged that return to sport remains high with nonoperative treatment of partial UCL tears.
UCL injuries in the news:
https://www.cbssports.com/fantasy/baseball/news/padres-jacob-nix-on-mend-from-tommy-john-surgery/
https://www.si.com/mlb/yankees/news/new-york-yankees-sp-luis-severino-makes-first-rehab-start-since-tommy-john-surgery-tampa-tarpons
https://www.mlbtraderumors.com/2021/06/chris-devenski-undergoes-tommy-john-surgery.html
If you have elbow pain from UCL injury and want to discuss what is the best option for you call my office at 512-244-4272 or schedule an appointment online.
7 Jun 21
https://pubmed.ncbi.nlm.nih.gov/33264030/
Today's article "Bankart Repair Versus Latarjet Procedure for Recurrent Anterior Shoulder Instability" is out of Rowley Bristow Orthopaedic Center, Ashford and St Peter's University Hospitals, Chertsey, UK.
Most shoulder dislocations occur anteriorly, meaning the humerus is anterior in relation to the glenoid. When this happens the labrum of the shoulder will tear, and this may also result in bony injuries or defects to the humerus and glenoid. Having more than one dislocation, or recurrent instability, may lead to more bony injury to the glenoid compared to a single dislocation. Recurrent instability is also more common in young individuals.
Shoulder dislocations occur commonly in contact athletes. Here is an example of a dislocation of a shoulder dislocation in the news: https://www.si.com/nfl/buccaneers/news/tampa-bay-buccaneers-jordan-whitehead-undergoes-shoulder-surgery-report.
This article compares two surgical techniques of addressing recurrent shoulder instability. The Bankart repair tensions the anterior shoulder capsule and repairs the torn labrum whereas the Latarjet transfers a portion of the coracoid (a small portion of the scapula) to the glenoid. The results did show that the Latarjet had a lower redislocation rate at 6-10 years post op.
Currently the Bankart repair is more common as a primary procedure in the US whereas the Latarjet is common in France. However, a determinant in the decision-making process for which procedure to undertake is the amount of glenoid bone loss and this was not reported. The paper did report overall good outcomes following both Bankart repair and Latarjet.
If you have had a shoulder dislocation or shoulder instability and would like to know what treatment option is best in your case, you can my office at 512-244-4272 or schedule an online appointment.
8 Jun 21
https://pubmed.ncbi.nlm.nih.gov/33196300/
Today's article is out of Tulane University from Wortman et al. "Blood Flow Restriction Training for Athletes: A Systematic Review" pulls together data from 10 studies.
Blood flow restriction has garnered interest due to the potential for increased muscle development at lower levels of resistance. I have had interest in this from a rehab standpoint for postoperative knee rehabilitation. This article, however, focuses on healthy athletes.
The authors report 9/10 studies showing improvements in strength with 7/10 showing significant improvements compared to control groups. Ultimately, the largest drawback to the reported studies is the heterogeneity of testing apparatus (tourniquet vs bands), pressure in the cuff in those using a tourniquet, outcome measures, training protocol as well as training duration and frequency.
Although there continues to be interest and increased awareness in this technique this article demonstrates that more studies are needed to standardize training regimens.
If you are an athlete and want to know more about the various sports injuries treatment, you can call my office at 512-244-4272 or schedule an online appointment.
14 Jun 21
Kyrie Irving recently suffered an ankle sprain in game 4 of the Nets-Bucks series and will miss game 5. For further reporting see the following links (the ESPN link also has a video showing the injury mechanism):
https://www.espn.com/nba/story/_/id/31626575/brooklyn-nets-guard-kyrie-irving-exits-game-4-right-ankle-injury-x-rays-negative
https://www.si.com/nba/2021/06/13/kyrie-irving-ankle-injury-leaves-game-4
https://bleacherreport.com/articles/2944529-woj-nets-preparing-for-kyrie-irving-james-harden-to-be-out-vs-bucks-in-game-5
In the article "Ankle Sprains in the National Basketball Association, 2013-2014 Through 2016-2017" by Herzog et al. they take at the epidemiology of this injury in the NBA population. Ankle sprains were broken down to medial, lateral, and high based on the ligaments involved. Based on the video, Irving likely suffered a lateral ankle sprain from an inversion injury. Of the 796 ankle sprains reported on in the study, 638 were lateral and 189 occurred from landing on another player's foot.
While most ankle sprains in this study did not require missed playing time, they were not able to report on the severity of the ankle sprain. However, of the players that did miss at least 1 game, the median number of missed games was 2 with the interquartile range of 1-4.
Another interesting data point from the article includes a single season risk of ankle sprain of 25.8%. Also, the incidence of ankle sprains was 41% higher in players with another ankle sprain within the last year.
15 Jun 21
Today's article "Rehabilitation variability after rotator cuff repair" by Galetta et al. is from the Department of Orthopaedic Surgery at Massachusetts General Hospital.
Rotator cuff repairs are a common procedure with over 250,000 estimated to be performed each year. Ideally the rehab protocol for this procedure would be standardized. The authors looked at publicly available protocols from US academic orthopaedic institutions and from a google search. They then compared the 66 available protocols online to that of the American Society of Shoulder and Elbow Therapists (ASSET) guidelines published in 2016.
The authors were able to find protocols from 24 states. Of the 66 protocols analyzed 51 described small or medium tears, 29 unspecified size, and 15 large or massive tears.
Interesting findings of the study are the lack of consensus of length of time needed for strict immobilization, timing to begin range of motion, progression of range of motion, and timing for the initiation of strengthening. Specifically, the authors mention discrepancy in reporting strengthening even within the ASSET's guidelines and highlight the need for a clear definition of strengthening.
The paper highlights the need for further research into the topic of rotator cuff rehab. The authors also note that wider availability of published protocols may help collaboration to increase standardization of rehab protocols.
Dr. Art Villarreal provides rehabilitation for various orthopedic conditions. To know more, you can call his office at 512-244-4272 or schedule an appointment online.
16 Jun 21
Today's article "No Additive Clinical or Physiological Effects of Short-term Anti-inflammatory Treatment to Physical Rehabilitation in the Early Phase of Human Achilles Tendinopathy A Randomized Controlled Trial" by Malmgaard-Clausen et al is from Bispebjerg and Frederiksberg Hospital, Copenhagen, Denmark.
Achilles tendinopathy can be a very debilitating injury that affects athletes. Runners are the most common athlete I see in my practice with Achilles pain. Based on previous research showing inflammation in the course of the disease, the authors set out to determine if a 1 week course of naproxen would affect short or long term clinical outcomes, tendon thickness, neovascularization or MRI findings.
The age of participants in the study reflects the typical patient at ~40 years old. All patients had symptoms for less than 3 months as the authors wanted to focus on early Achilles tendinopathy. Interestingly, they found that participants with symptoms < 1 month had an earlier response to rehab than participants with symptoms for > 2 months.
Takeaways from the study: There is no benefit to a 1-week course of 500 mg naproxen twice daily. It is unknown if a longer course would be beneficial. Neither rehab or naproxen resulted in a significant change to tendon thickness, neovascularization, or cross-sectional area of the tendon at 1 year. The course of tendinopathy is difficult with both study arms showing a significant decrease in physical activity at one year compared to baseline despite improvements in reported outcome measures. It may be beneficial for patients to begin treatment sooner as patients with symptom duration < 1 month showed significant improvements in Victorian Institute of Sports Assessment–Achilles score compared to those with symptoms > 2 months. This difference was not present at one year.
If you have pain in your Achilles or have had an Achilles injury, you can call to schedule an appointment with Dr. Villarreal.